Handel: The Complete Amen, Alleluia Arias
Robert Crowe, soprano, and Il Furioso
Toccata Classics TOCC0337
By Andrew J. Sammut
CD REVIEW — Nearly half of this disc is made up of Handel's settings of the words "Amen" and/or "Hallelujah," likely intended for performance in private homes and deliberately light on lyrical content. Yet Handel makes these spiritual declarations by turns reflective (HWV 271), resigned (HWV 274), joyous but refined (HWV 276), virtuosic (HWV 277), and, of course, triumphant (HWV 275). The album also includes three vocal works from the Harmonia Sacra, a collection of sacred solo songs published in various editions during the late 17th century and also aimed at home use: William Croft's bright, heavily ornamented hymn to music, an anonymous composer's graphic vision of Christ's crucifixion, and John Church's emotionally ranging "A Divine Hymn," which soprano Robert Crowe calls "a truly under-appreciated masterpiece."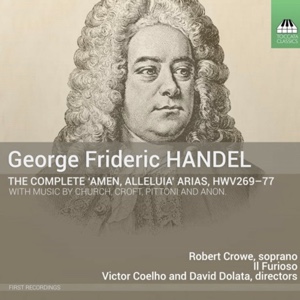 This music was intended for "amateur" musicians, meaning "non-professional" rather than "unskilled, dilettante" and certainly not "student," according to Crowe. These works are technically involved and expressive, and the musicians approach them with obvious knowledge and affection. Crowe explained over email that "the limited word choice [in the Amen and Hallelujah arias] and those two words both containing relatively broad, powerful meanings meant that the affect had to be gleaned not from text but from the music written to undergird it." Crowe's musical instincts are spot-on throughout as he explores each work's unique character. He tosses off some impressive sudden register shifts, including an unexpected dip into chest voice following chiming, upper-register melismas at the end of Croft's "A Hymn On Divine Music." Even during the most ornate line of the three Harmonia Sacra pieces, Crowe demonstrates fine diction and consistency of tone.
The American-Canadian ensemble Il Furioso partners Crowe with chamber organ and one or two theorbos on each track. The liner notes explain the historical precedent for the double theorbos, but the warm, undulating wash underneath and around Crowe justifies itself on purely sonic terms. The first, unornamented performance of HWV 270 (as opposed to the ornamented version closing the disc) is a great example of the simple but powerful effect of one theorbo doubling the organ's bass line while another plucks the harmonies. HWV 269 is a superb example of the whole ensemble — singer and instrumentalists — breathing together and feeling the pulse as one. Theorbo sonatas by the obscure Ferraranese composer and theorbo virtuoso Giovanni Pittoni spotlight Il Furioso co-directors Victor Coehlo and David Dolata. Charming excerpts composed by Handel for mechanical musical clock showcase organist Juvenal Correa-Salas.
This reviewer had difficulty with the recording's audio engineering, such as rumbling on Crowe's highest notes and some muddiness in the instruments' lower ranges (even after trying the disc on three sound systems). Those strictly technological issues aside, the origins of these works in private musicking, the spare accompaniment, and the musicians' sensitive interplay make this a thoroughly intimate affair.
Andrew J. Sammut has written about European classical music as well as American classical music for All About Jazz, The Boston Musical Intelligencer, Early Music America, the IAJRC Journal and his own blog.